Creek and River Travel
The Mantua Creek served as a highway before improved roads or railroads made land travel easier. Other creeks served other towns - Raccoon Creek made Swedesboro accessible to Delaware River traffic. Bridgeton was served by the Cohansey Creek and Millville by the Maurice River.
Will Fell shared a number of photos and some memories of river transport. A facebook discussion followed.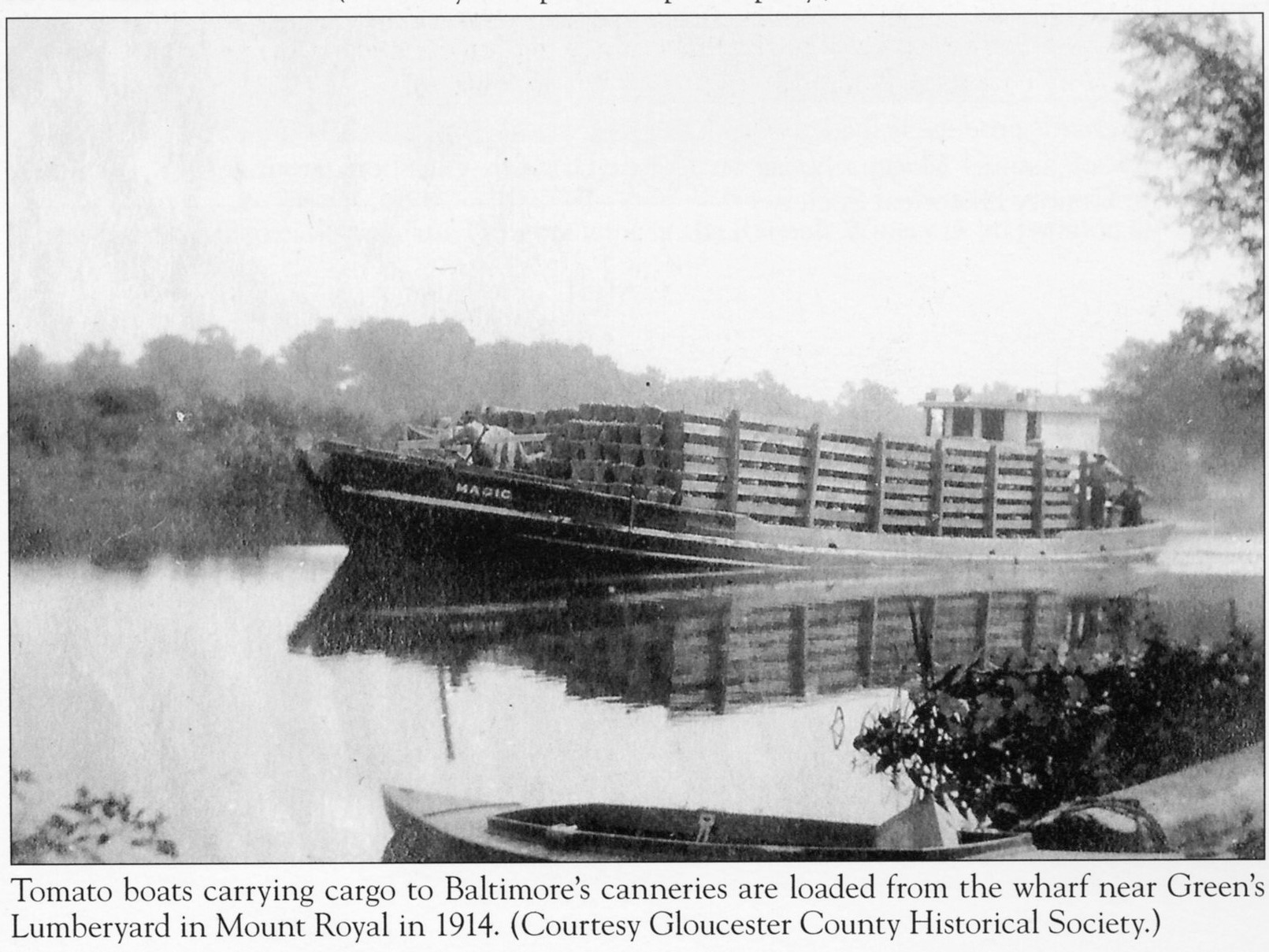 Will Fell
Thanks Bob, that brought back memories. As a child we lived on the family farm on Rt 322 just out of Bridgeport and my bedroom was on the 2nd floor end of the old house looking out toward the river. There weren't as many trees in the woods back then and you could see the buoy lights in the river and on summer nights when the windows were open I would hear the wailing horn of the ferry as it departed the Bridgeport slips. It was a different era then, They would bring shallow draft fertilizer boats up Raccoon Creek and most of the farms on the creek had old wharfs or docks. There was a draw bridge to let them thru on the back road to the auction block in Swedesboro. My Mom went to nursing school in Wilmington and would ride the Penns Grove Ferry over the river before they built the Pennsville-New Castle Bridge. My Cousin farmed the old farm after my Dad quit until just a few years ago when he sold it to a developer and it is slated to become part of the big industrial park there. They tore down the old 1830's farm house and the larger barn and now all that is left is the small tractor barn falling apart lonely in a grove of overgrown trees back from the highway.
Bob Thomas
What kind of fertilizer did those shallow draft boats haul? How was it unloaded?
Will Fell
I believe it came from a plant in Baltimore and was in 80lb sacks. During the winter my Dad would occasionally drive a truck for Harry Finnocharro (sp?) who was a warehouseman in Swedesboro to pick up fertilizer in Baltimore. I think back then it was p…See More
Bob Thomas
Will Fell They shipped tomatoes by boat from Swedesboro to Bridgeton, Camden, and Salem? That is great. I wouldn't have guessed much of anything was being hauled by boat that recently. Route 130 has a lift bridge over the Raccoon Creek, and the railroad has a swing bridge.
Will Fell
I would guess they did it in the 30's and 40's. I remember my Dad talking about it. My Mom grew up in an old house on the creek on the backside of Bridgeport and she talked about her neighbor had a fleet of boats that plied the creek. Somewhere I saw some photo's of them, I'll have to look around.
Will Fell
Bob, it was the Wright Brothers that had the truck boats in Bridgeport. Here is one of the brothers Obit from 2018.
William M. Wright Sr.
Bridgeport, NJ
The oldest man in Bridgeport. He could no longer drive but he maintained a car, tractors and a golf cart: Bill preferred being chauffeured in his own vehicles. Every snowfall he'd make a track on his property; the grandkids would go wild on the snowmobiles. But, of course, he'd do anything to keep them entertained: he even made tomato juice with granddaughter Amy (AKA Turk).
Earlier years found him hauling everything imaginable from oyster shells to fertilizer by boat with his family business, "The Wright Brothers," along the area's waterways; he went as far as Baltimore. He was set in his ways, especially when it came to farming. Bill grew potatoes and pole lima beans, mostly sold to locals but he also maintained a roadside stand if, for no other reason, because he loved to chat with customers.
A prankster from the get go; you might find a firecracker under your chair or your purse tied to your seat. His favorite T-shirt read Hot Damn, here I am. One day he'd meet a girl named Violet while collecting a debt from her brother. He never could quite remember whether or not it was actually paid but he collected the late Violet as his bride. In any case, after 69 years of marriage he considered that debt paid with interest.
He is survived by his sons, William Jr. (Margo) and Michael (Nancy); his sister Ethel Gardner and his grandchildren, Jenny Wright, Amy "Turk" Wright, Tracy Sparks (Dave), Daniel Wright and Lewis Wright; and six great-grandchildren. The Wright family celebrated 100 great years at St. Paul's U.M. Cemetery, Bridgeport.
Donations to the charity of the donor's choice will be appreciated. Daley Life Celebration Studio 1518 Kings Hwy. Swedesboro, NJ 08085 856-467-0626
To Plant Memorial Trees in memory, please visit our Sympathy Store.
Published in South Jersey Times on May 13, 2018."
Bob Thomas
Will Fell Thanks for that info. He most likely used the canal across Delaware to get into the Chesapeake and down to Baltimore. I wonder if stone for the Presbyterian Church, which came from Port Deposit on the Susquehanna River was brought by similar route by boat up the Delaware and into the Mantua Creek?
Will Fell
Entirely possible, there was Carpenter's landing in Mantua and used to be old pilings to be found just downstream from the Mantua Ave Bridge behind the Gas station across from the cemetery. I always heard that was the head of navigation for the creek. There was a drawbridge at Mt Royal, I wonder if there used to be one on Bridgeton Pike in Mantua?