1957 or earlier Railroad Trestle over the Mantua Creek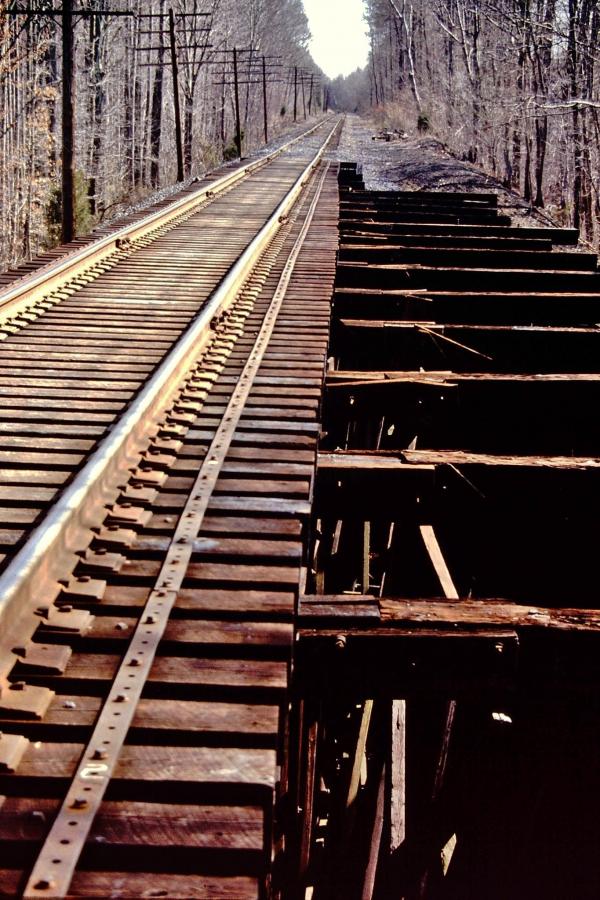 The photos below were shared by Ken Schwarz on the Facebook group Railroads of Old New Jersey
Ken Schwarz
Here are some pictures of the trestle in or near Sewell NJ. While the pictures were taken after 1957 the trestle is certainly well before that time. It looks like it was built for double track. Does anyone have any info about it?
Joseph P Murphy
Hiked that a few times with the boy scouts
Bill Hand
"The Trestle." The bridge has been recently replaced (within 20 years). It was like this during my childhood. We would sit on the beams with our legs hanging and as we got older we'd become increasingly daring. There was always folklore that people hanged themselves off it.
Vicki Lou McCall
The Wenonah Trestle was rebuilt in the mid 40s after an amazing washout from a Nor'easter. Buses connected Wenonah station to stations down the line.
Ken Schwarz
I know the trestle at Oldman's Creek was damaged (probably the same storm) and had repairs. They were supposed to be temporary repairs but we were still going over it after 2005. One rail was about 3 inches higher than the other and the loco really leaned. The trestle was completely rebuilt about 5 years? ago..
Kurt N JudyRoss Nelson
Yes, the line was double tracked decades ago. You can also tell by the extra right of way on the side of the tracks in places like Sewell.
Ken Schwarz
thanks, I figured it was, but wasn't 100% sure. At least I can depend on a few people with better memory than mine or who just have more knowledge. I want to keep things accurate.
Michael Andrescavage Sr
And it had 3rd rail DC from 1903 to 1949.
Gary N Moore Sr
We redecked it in the late 90s and put CWR ON IT its been replaced as far as i know
The Current Wenonah Trestle -- from
https://www.njhiking.com/nj-hikes-woods-of-wenonah/
https://www.njhiking.com/wp-content/uploads/2020/04/11-8.jpg


Google satellite view of current bridge 2020.