1949 Wenonah Boys Club baseball team.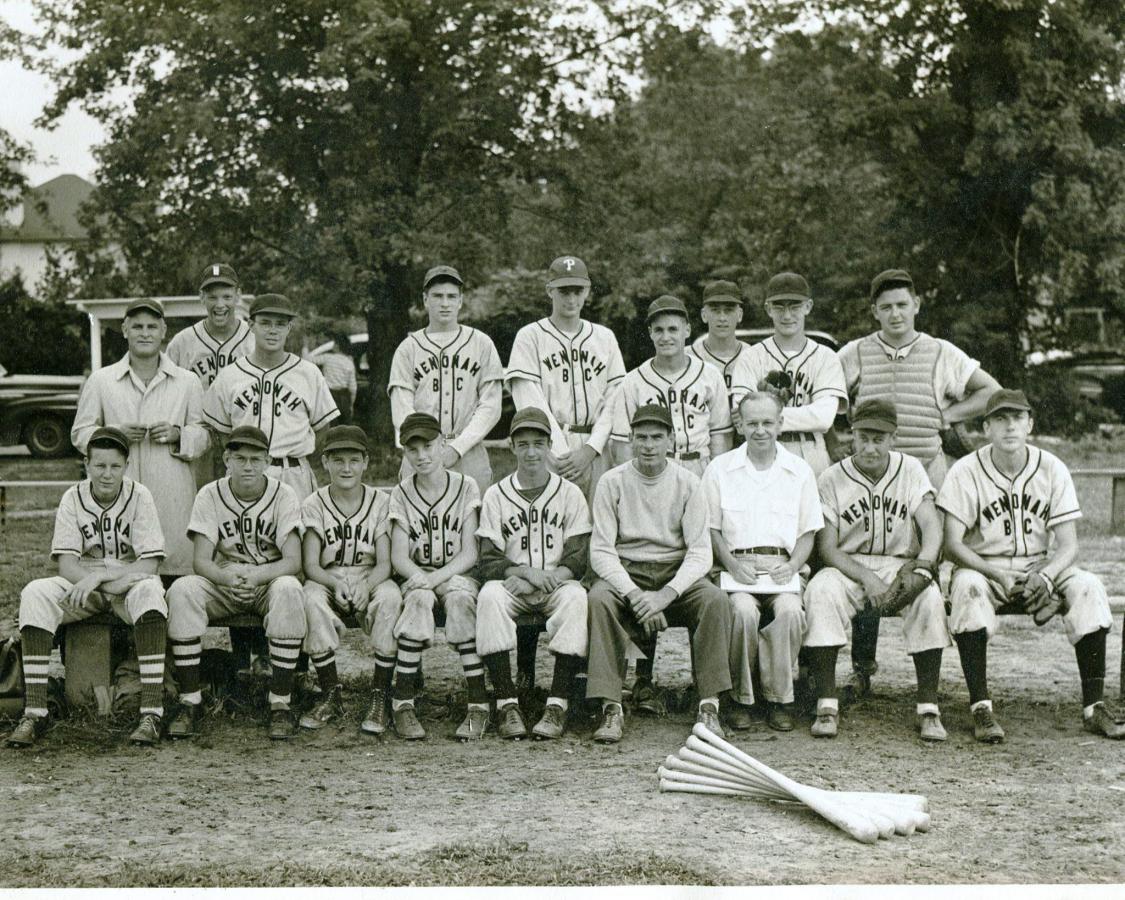 Description:
Photograph of Wenonah Boys Club Baseball team / 1949
People:
Back row: Bill Queale Sr. / Merle Richman / Doug Gehring / Tom Morie / John Richman / Don Gehring / Marty Dipper / Gordon Scargle / Don Fiske
Front row: Frank Magin / Kaufman / Bill Queale Jr. / Chuck Peters / Dick Olson / Jerry Hammond / George Gehring / Dr. Roy Fleming / Ed Monahan
Donald G. Gehring shared this photo on FaceBook in 2014.
Laurie Funk: I see you Uncle Donald G. Gehring and I believe my Dad, front row all the way to the left.
Ted Astorga: Awesome picture Mr G.
Kathryn Mary: My father, Terry Fleming, thinks that his father, Roy Fleming, is in the first row, second from the right. Can anyone confirm that or identify the others?
Donald G. Gehring: KM, It certainly is your grandfather Dr. Roy Fleming, our 2nd baseman.
Chris DeHart: great photo - any other names ? It looks like quite a mix of ages.
Kathryn Mary: Thank you! It is a very cool picture! Do you know any of the other men in it?
Larry Smith: Some of the players look older than the coaches!
Donald G. Gehring: FYI-Frt row l-r Frank Magin,Jr, Jack Kaufman, Bill Queale,Jr,Chuck Peters, Gerry Hammond, Mgr, George.Gehring, Scorekeep,Doc Roy Fleming,Ed Monahan. Back Row l-r Bill Queale Sr,Organizer,Merle Richman, Doug Gehring, Tom Morie, John Richman, Don Gehring, Marty Dipper, Gordon Scargle, Don Fiske.
Bob Thomas: Thanks for the list Donald G. Gehring, I tried to line up the names with those pictured and I keep coming up with 17 names for 18 faces -- I see 9 people in the front row but only count 8 names. Seems like one of the players to the right of Dr. Fleming wasn't named.
Donald G. Gehring: Bob, thanks for the ? it's called crs. I omitted "Dick" Olson to Chuck Peter's left shoulder.. Dick was an Army brat who spent several summers with his grandparents (the Bell's) at 105 N. Jefferson my next door neighbors. He went on to become a 2 star Army General in Vietnam; died late 80's from agent orange leukemia. Called Wenonah his home.
Jean Maurie Puhlman: Brings back a lot of memories
Diana Rowland Gillis: Gehring Thanks for the photo. I knew 3/4 of the boys and of course your Dad was the first one that I recognized.
Dave Brangan: Is Doc Fleming the guy in the white shirt (first row) or the guy to the right?
Dave Brangan: Actually, Mary Fleming, wife of Doc Fleming, died just about a year ago up in Rhode Island. My mother had kept in touch with her. I think Terry Fleming's daughter is on FB
Dave Brangan: Hey, some guy in the back row has a Phillies cap on!
Michael Campbell: The Guy In the white shirt is Mr George Gehring Don & Doug Gehring's Father Doc Fleming is at his left.
Dave Brangan: Thanks Michael Campbell. Any idea of the age group for the Wenonah Boys Club? I am thinking Doc Fleming would have been in his late 20's or early 30's by 1950.
Michael Campbell: Only Don Gehring would Know That!
Dave Brangan: That's what I was thinking. He will probably read this eventually.
Donald G. Gehring: My dad & Bill Queale Sr. were 50, Mgr. Jerry Hammond was late 50's Doc Fleming, Ed Monahan & Don Fiske were about 30.the bulk of us kids were 15-19 years old. We originally played teams from Grenloch, Gibbstown, Paulsboro, Woodbury, Glassboro Jericho, and Mantua. Money came from bake sales and the hat. The Borough finally agreed to cut the grass.We had fun for a few years. To my knowledge 12 members in this group are no longer with us.
Bob Thomas" Terry Fleming reports that his father was born in 1917, so depending on his birthday he would be either 31 or 32 in this photo.
Dave Brangan: That's what I was thinking Bob. However since this was a boys club Doc Fleming seemed a little old for a boys club. Therefore I thought he was either a coach or scorekeeper!
Donald G. Gehring: Doc Fleming played 2nd base & was a damn good hitter batting 2nd. I was told today that Gordon Scargle recently died in Clearwater,Fl.
Dave Brangan: Doc Fleming was also a coach with Babe Ruth team in the early 60's.
Reenie Thomas Crawford: This photo is great. I played softball in the 60's & there's not one group picture of any team any year. It would have been great to have had them taken every year. Too late now!!